Ryan Trainor
– Co-Founder & CEO
Ryan has 25+ years of experience as an EdTech and education entrepreneur having founded and exited high-profile education ventures in SE Asia.
It's strange to think back to the early days of 2020 – and the magnitude of change we've all experienced since then.
At that time, my co-founders, Lincoln, Victor, Richard, and I, along with the team, were getting ready to launch Adventus.io into the international education ecosystem.
With many of the world's borders shut and students grounded in their home countries, our June 2020 launch date started to seem a little daunting – but I'm deeply proud to say that we made it while putting the health and wellbeing of our team first.
2020 was an inflection point for everyone. Our team, as well as our institution and recruitment partners, all had to think differently. The resolve and innovation shown by the industry has been remarkable.
Fast-forward to today, and the world is in a very different place. Thousands of students are returning to destination countries, ready to embrace the life-changing opportunities that education can provide.
Personally, after two years of Zoom meetings, I'm feeling incredibly grateful to catch up with people in person – some for the very first time. We've just enjoyed a busy trip to NAFSA in Denver (where our team booked 110 meetings!).
Amid this flurry of activity, it can be hard to find the time to stop and look back. But there's good reason to: Adventus.io just turned two.
I'd like to extend a massive thanks to everyone who has been part of the journey, from my co-founders to the entire Adventus.io team – across 23 countries worldwide! I look forward to celebrating with everyone over the coming days.
It's also a good moment to reflect on all that we've achieved. With that in mind, here are some of the proud moments in the Adventus.io timeline so far.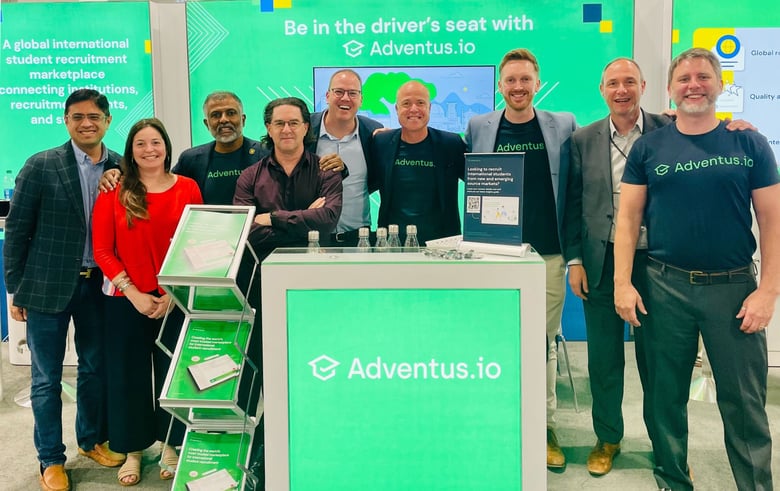 Supported our people through the pandemic
It's easy to stick a list of values on the wall, and it's more challenging to live them every day – but it's something Adventus.io tries to do. So, when Covid-19 hit, we thought deeply about how best to support our people.
We rallied as a company and ensured we lived our values by supporting each other – whether through online events or asking how we could support a team member's family. There were some tragedies where we lost loved ones, but we rallied together.
A silver lining of that time was that it created a lot of bonds throughout the organization and greater empathy for what people were going through in their own countries. I think it made us stronger.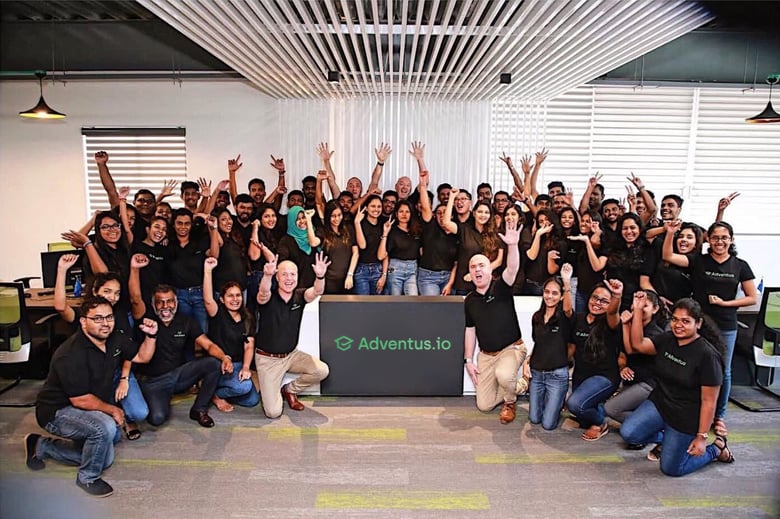 Created a culture that champions problem-solving
In an industry that's shifting rapidly, we need to move quickly. I'm proud that Adventus.io has built an ethos and culture that relishes innovation. The team has lived our value of Own it and Ship it. Nothing's seen as too hard; it's just another obstacle or problem to solve.
Opened our fulfilment centre in Noida, India
Quality is crucial for us – for instance, we maintain global application-to-offer and visa success rates of over 90%.
Something that's helped get us there is our application fulfilment supercentre in Noida, which we opened in 2021. The team there processes applications exceptionally fast and accurately.
Expanded to 20+ source countries, including LATAM and MEA
Our marketplace continues to grow, and we're now based in 20+ source countries with 6,000+ recruitment partners. We also recently expanded into Latin America and the Middle East, both important emerging regions. That means some extraordinary new team members have joined our mission.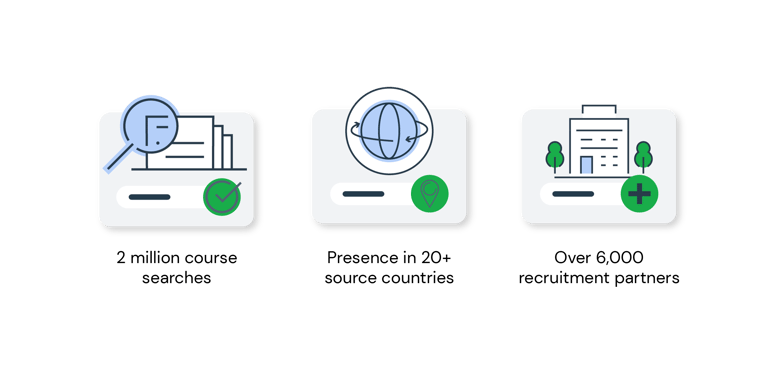 Helping over 5,000 students live their study dreams
By the end of the year, we will have helped process 100,000 applications worldwide for students seeking to change their life through education. This is one of the proudest aspects for me. Education is a gateway to so much opportunity, and playing a role in that is what drives us all every day.
Launched Adventus Drive
Data intelligence can be a game-changer for institutions, and this is something we deliver with Adventus Drive. Many world-leading institutions have already become members of our recently launched premium program and are using it to access new real-time insights. There are exciting products we are launching over the coming months; institutions will have control and visibility that has never been available.
Made sure people remain the priority
As a technology company, we have never forgotten that our business is about people. That includes our team members, the small-business-owner to enterprise recruitment partners, and colleagues that work within institutions. Relationships are everything. All of our goals are to support a student in achieving dreams. Technology is just the enabler.
Remembering this has helped us grow a brilliant global team, now based in 20+ countries, and passionate about assisting students in making the best choice for their future.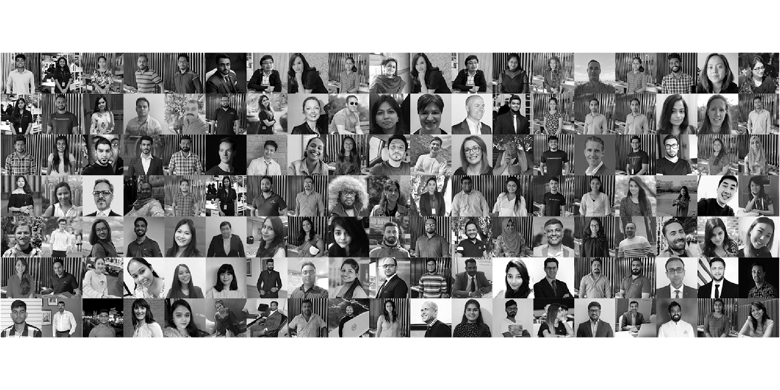 Kept learning and improving
I'm also immensely proud of the evolution of our technology and platform and the velocity of product releases. But, when you're growing, you don't get it right all the time.
We've learned to put assumptions aside and really listen to our customers to ensure we can get better, help the industry become more efficient, and, ultimately, help more students get to the right universities. That means often being vulnerable with partners to create an opportunity to learn from each other - to become better as an industry.
This is only the beginning
Adventus.io has come a long way in the last two years, but we're just at the beginning. We can't wait to see the innovation created when we reflect and turn three! It feels as if we're about two kilometres into a full marathon – and we are excited to be part of this extraordinary industry.
We're hiring! If you're excited about shaping the future of international student recruitment, we'd love to talk to you.