The current global economy has created significant recruitment challenges for institutions to address the global audience of students. Although, it's pretty remarkable to think how student numbers have rebounded.
We asked three industry insiders – Adventus.io's Chief Commercial Officer, Patrick Whitfield, Partnership Director APAC, Davorin Vrdoljak, and USA Partnerships Director, Bjorn Myhre for their thoughts on how to address these issues head-on.
Conversion

Davorin says, for many institutions, the feeling of being snowed under by applications is all too familiar. In many cases, volume isn't the issue.
"For lots of institutions, the issue is not so much the lack of applications, it's about conversion. What do we do when we get the application? How do we move them through the pipeline as quickly as possible and convert them?".
Patrick suggests that to manage the burden of admission, boost quality and conversion rates, institutions should carefully consider their recruitment channels. "I think institutions do need to be judicious around which partners they work with – and ask: how many choices do they create in the market? How many channels do they open up to apply to their institution?"
Consolidating recruitment channels could be worthwhile for institutions that want to encourage quality over quantity.
Bjorn adds, " It is really important that the institutions and counseling partners know their students well and provide good service before and after arrival on campus. Institutions need to be selective in working with recruitment partners that work to meet their enrollment goals."
Retention

Davorin says retention remains another sticky problem: how can you guarantee a student won't change their mind six months into a course?
"Of course, you would hope if students are making a massive purchasing decision – their tuition fees – they would have researched it fairly well and understand what they're entering into – but it's not always the case," he says.
He says working with only trusted and vetted recruitment partners can help ensure students are getting the right information to make the best choice for them.
"We need to manage the agent network to ensure that the student understands what they're buying, and the agent is acting ethically – especially in higher-risk markets."
Communicating effectively with the agent network is critical, make sure to spread out the right message about your scholarship opportunities, choice of fitting course for study, campus learning experience, and pathway options.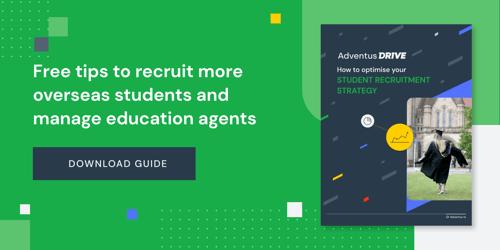 Pipeline analysis

Patrick says, traditionally, some elements of student recruitment have seemed like a "black box" for institutions.
But technology is increasingly giving institutions greater visibility into their student pipelines – and more metrics to work with, such as how a recruiter is performing and how your institution stacks up against competitors.
Patrick says it also enables more control and precision marketing: the ability to promote a particular course to target markets and to increase numbers for a selected course.
Davorin adds that streamlining reporting processes – particularly in a highly regulated country like Australia – can cut down a lot of paperwork for institutions.
"Regulators will look at details like the performance and behaviour of the agent – that's indicated by things like visa rejections and attrition. This can be super onerous," he says.
He says having this kind of data available quickly and through a consolidated recruitment channel can also slash a huge amount of time for institutions.
Bjorn says, "It is important to have a good CRM or data tools to understand an institution's strengths and weaknesses in their enrollment funnel. If an institution does not have good internal data, then providers like Adventus.io can offer data analytics."
Final thoughts
Conversion, retention, and pipeline analysis are tricky aspects for institutions. Consolidating your recruitment channels can be the answer, know your students, know your data, then make good, informed decisions on how to improve for the next admission cycle moving forward. Learn more on how you can optimise your international student recruitment strategy.