Institutions everywhere know the importance of diversification – but how can it be achieved?
Davorin Vrdoljak, APAC Partnership Director at Adventus.io, says the pandemic "caused a big moment of reflection" for institutions that were overly reliant on just one or two source countries, like many institutions in Australia.
Now that student numbers have rebounded, many of us are considering how to avoid a potential future crisis.
Patrick Whitfield, Chief Commercial Officer at Adventus.io, says, as diversification is a major objective throughout the market, it throws up some interesting questions. "It's worth asking: if everyone is trying to diversify, is it just a sort of zero-sum game?"
But, he says, there are ways to bolster your diversification strategy – and scale sustainably. Patrick, Davorin, and Roberto Souza, Regional Director LATAM, share their insights.
Understand the objectives of your diversification strategy
Which cohorts of students would your institution like to increase, decrease, shift to different disciplines or diversify with more source recruitment countries? Identify the disciplines where this cohort is overrepresented and underrepresented.
Consider the current product and format mix – for example, which nationalities might be open to studying part-time or online.
Choose recruitment countries strategically by understanding your institution's strengths, source market size, and student interest.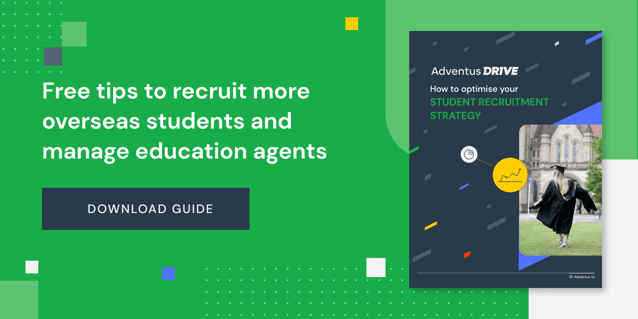 Consider different dimensions of diversification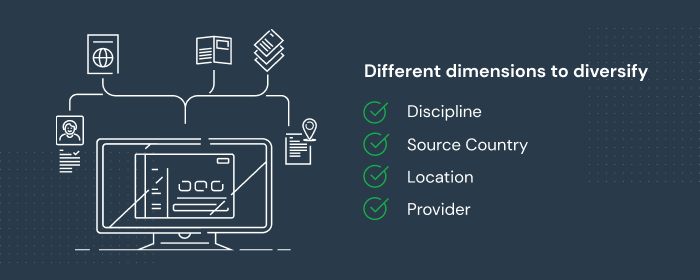 Diversification can be thought of in terms of different dimensions, such as discipline, source country, location, and provider.
For example, business and commerce degrees are overwhelmingly popular in Australia– they make up almost half of international student enrolments at Australian universities – meaning there's a big opportunity to increase enrolments in other disciplines.
Also, Australia's top 5 source markets– China, India, Nepal, Vietnam, and Malaysia – equaled 72% of international students enrolled at universities in 2020. (China and India accounted for 58% of that number.) So, there is a critical need to diversify its source markets – and execute government plans to work with institutions on measures such as a diversification index and diversification action plans.
As the world embraces a hybrid working model, now could be a great time to promote smaller and regional locations worldwide.
Roberto Souza says that one way for institutions to attract more students to a wider range of courses and disciplines could be to offer targeted fee discounts.
"LATAM, for example, is a very price-sensitive market," he says. "So, if students decide to study overseas, they will always take into consideration the tuition fee, of course, location, the possibility to work while they're studying, and post-graduate work permit."
Scholarships or fee discounts could make certain courses more attractive to students in price-sensitive regions.
Choose partners carefully
Deciding whom to let into your recruitment ecosystem can be tricky. Recruitment partners need to have local knowledge, be trustworthy and ethical, and deliver quality applications.
Patrick says on-ground regional expertise is particularly critical – but it can be hard to build.
He says, to do this at scale, institutions could consider consolidating their recruitment channels – and investigate which recruitment tech platforms could be right for them.
It's also crucial to find partners who listen deeply to any feedback you may have and jump in to troubleshoot issues on a case-by-case basis.
Test the waters
Davorin suggests that a modest investment upfront can be useful when entering new markets – particularly for institutions with fewer resources.
"To begin to elevate their brand or elevate their programs in different countries where they might not have a big presence, institutions can test the waters and dip a toe in the water in say, Colombia, where they might not have ever been," he says.
He's worked with institutions that have used this method to try out new markets. "At a low cost you could throw your hat in the ring and see what comes of it," he says.
"It's a good way to test things without really going in hard and investing in an in-market rep or four or five plane trips overseas."
Leverage data
Davorin says strong diversification strategies require a deep understanding of the source country, students, and channel partner – data insights can help with this.
Some key aspects an institution should consider when forming an international student recruitment strategy should include:
How can we build a trusted channel partner network in a new country?

How do influencing factors and decision-making behaviour differ between source markets?

Who are my high-performing channel partners and what percentage of their total volume do they send to my institution? How can I increase this penetration?

What courses are popular amongst students from specific countries and how do we best market to them?

How is my institution performing relative to other competitors in terms of volume, conversion, and product mix?

What is the channel's potential for scaling and further diversification over 12 to 24 months?
Build a genuine community
Interesting research from strategist Kerri Shook, as reported in Inside Higher Ed, surveyed international students of colour to gauge their perceptions of "diverse" university marketing.
She found that students could sometimes discover that an institution wasn't as diverse as it actually claimed to be – and end up "feeling intentionally misled".
Deceptive practices could include "overrepresenting racial and ethnic diversity through imagery in recruitment marketing" or "inviting students of colour to special diversity recruitment events".
She says institutions that instead put resources into building genuine on-campus communities and making sure students are properly catered for will have more long-term success than those that mislead for a quick win.
Play the long game
Davorin adds that establishing a presence in a new market won't happen overnight.
"You can't just go into a new market and, all of a sudden, there are tons of students who want to go to your institution. Diversification is a balancing act between your established markets that are virtually guaranteed to yield volumes and experimenting in emerging markets that will future-proof your institution. It's a balance between short and long-term objectives."
He says steady, intentional brand-building – without expecting immediate results – is the way to go.
Final thoughts
There may not be a silver bullet to diversification – but it's worth looking at it from all angles. Get more ideas on how your institution can diversify its student recruitment strategy.