Education institutions are critical to society––driving innovation, bolstering the economy, and ultimately, shaping our collective future.
But many institutions are facing similar problems that risk stifling their growth: lack of visibility, limited control over diversity, and a high cost-to-outcome ratio in recruitment.
That's all changing––with Adventus Drive.
A year in the making, our intelligent marketplace tools are a force multiplier for student recruitment giving institutions power, control, and influence like never before. Ultimately, helping institutions connect with quality recruiters to match the right student with the right course, every time.
Multiply recruiting power
At Adventus.io, we're not another master agent or agent aggregator. Instead, we're a neutral marketplace helping institutions, recruiters, and international students easily connect and transact with each other.
We've built a new global infrastructure to fuel transparent, targeted, and quality-obsessed student mobility outcomes.
To help everyone in our marketplace thrive, we've re-imagined student recruitment. Outdated data reporting and expensive low-conversion marketing activity that can't be backed up by results are a thing of the past.
Unlike most student recruitment campaigns that only target the top and middle of the funnel, Drive fundamentally changes student recruitment, empowering institutions to penetrate high-value bottom-of-the-funnel activity for ultimate control. To reach application-ready and quality-checked students at the most critical moments of decision-making.
Our intelligent solutions are hyper-targeted to help institutions continually power enrollment, diversify the student cohort, and increase brand awareness. With Drive, institutions can elevate programmes, analyse performance, influence recruiters, and connect directly with applicants.

The next generation in recruitment
To boost enrollment, we developed Advanced Analytics, to give institutions access to live reporting and ultimate visibility over the applicant funnel. Our analytics offer a new generation of influence unveiling trends in real-time to help institutions turn data reporting into data intelligence.
Live data shows detailed student information to truly understand demand. Competitor analysis allows institutions to highlight areas of improvement. And agent performance shows precisely who is providing quality applications.
We've also developed targeted tools to amplify reach. With Search Advantage, institutions gain guaranteed placement on the first page of search results resulting in a 4.9x increase in visibility. While Guaranteed Match promotes courses that are similar to a student's save list.
With Drive, institutions can also reach the world's best recruiters effectively and at scale. Institution Spotlights often have 110+ recruiters from desired source countries in attendance. While EDMs and push notifications can keep an institution top-of-mind in the markets that matter most.
This symbiotic suite of products allows institutions to make their tried and true marketing efforts far more targeted, measurable, and scalable. While also opening the door to reach and influence students previously unknown to them, in ways that simply aren't possible outside of our marketplace model.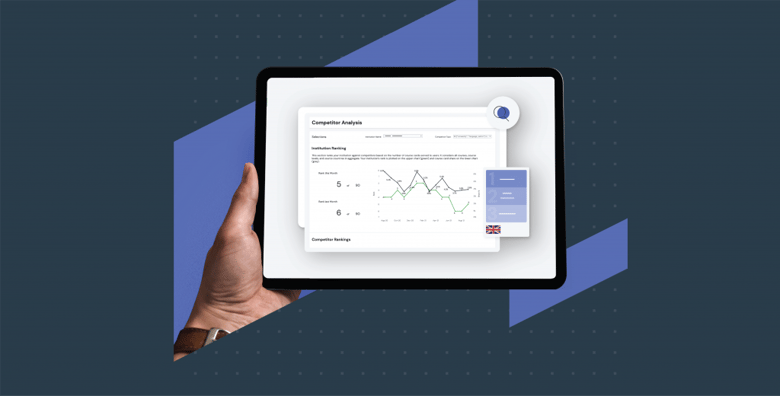 Designed for our marketplace
To develop the best possible solutions, we work closely with our marketplace to solve their problems. For Chris Grannell, our Chief Product Officer, Drive is a long time in the making.
"To deeply understand pain points, we worked with institutions in every major study destination to pilot, test, and fine-tune the product suite," he said.
"Our Drive tools aren't being offered anywhere else in the market. And our institutions are already seeing results. As our marketplace grows, our dataset will be the most accurate and intelligent for student mobility worldwide."
And our new solutions aren't just for institutions, it's of benefit to recruiters and students alike. By helping institutions connect with the right students, there's an increased chance of conversion for recruiters. While increased communication, and opportunities for training, make the cousellor's role more powerful.
For international students, Drive makes finding the right match based on preferences and grades faster. The right course might previously have been lost in the noise––now making confident study decisions is easier than ever.
Powering student mobility
Expanding into recruitment solutions for institutions further helps us power global student mobility. Our CEO Ryan Trainor sees Drive as a critical step in our evolution.
"Drive is part of our mission to continually provide the best possible experience and greater access for everyone in our network. From inception, we committed to developing intelligent tools to ensure every side of the marketplace succeeds," he said.
"We're fundamentally changing student recruitment to embed trust, diversity, and smart choices across every stage of the journey. Ultimately, our mission is to ensure every student ends up on the path that is right for them––confident they have made an informed choice free of bias, uncertainty, and ambiguity."
"Students supported by our marketplace entrust us with one of the biggest and most expensive decisions of their lives. We take that responsibility seriously."
Adventus Drive helps us become a true marketplace for international recruitment, on track to place 70,000 students annually by 2025.
These inaugural products are just the first stepping stones towards more solutions to empower institutions and deliver quality outcomes for every student.
---
Learn more about Adventus Drive or submit an enquiry to talk to our Partnerships team about how you can get started today.