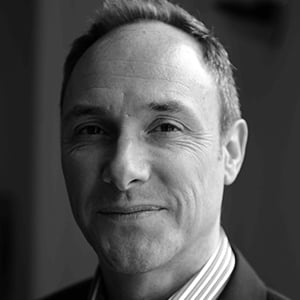 Chris Price
– VP GLOBAL PARTNERSHIPS
Chris has 30 years experience in the international education sector, having worked for both public and private sector institutions (the University Westminster, the University of West London and Navitas (Brunel University). Formerly member of the Member of General Council of the European Association for International Education (EAIE) and currently Fellow of the Chartered Institute of Marketing.
Sundar Pichai grew up in Chennai, India, and always had a knack for numbers. Like many Indian students, he completed his bachelor's degree in his home country before heading abroad.
He scored a scholarship at Stanford University, California, where he earned his MS. After graduating, he stayed in the States and went on to complete an MBA at the University of Pennsylvania's prestigious Wharton School.
Today, Pichai is CEO of Google (and its parent company Alphabet) and is one of the highest-paid executives in the tech world.
Every year, thousands of Indian students follow in Pichai's footsteps and arrive in the US – enticed by the country's world-leading education, work opportunities, and the chance to break into Silicon Valley.
In fact, Indian students account for 18% of all international students in America, second only to China (35%) in student country of origin.
Last year saw a slight dip in numbers but, in an effort to help international study rebound from Covid-19, the US just stamped a record 55,000 visas for Indian students.
As the country welcomes these students back onshore, here are some key stats and trends for US institutions to keep in mind.
India is the second-largest exporter of students in the world
Over the past two decades, the number of Indian students studying internationally has surged dramatically, and the majority head to the US and Canada.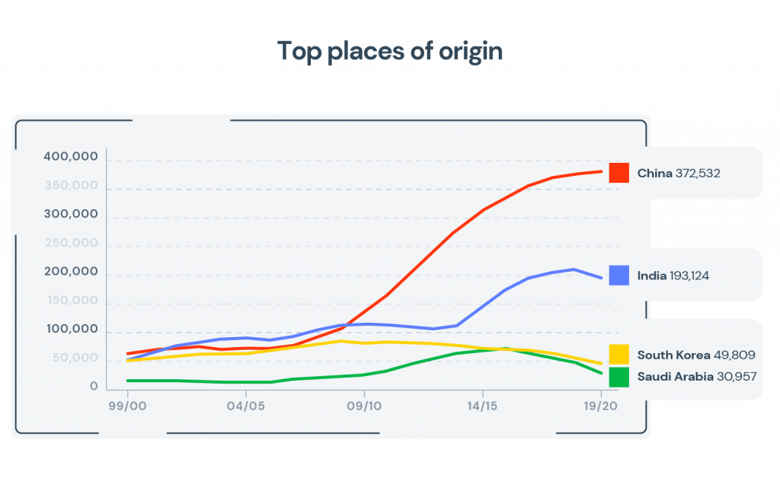 According to Open Doors, in 2000 there were just under 50,000 Indian international students in the US. Fast-forward to the 2019/20 academic year and there were 193,124.
The country's growing middle class means there are more college-age students seeking quality education outcomes than ever before.
India's domestic education system has grown to be one of the largest in the world, with close to 52,000 institutions. But, despite this expanded access, postgraduate opportunities are still few and far between in the country, which is one of the big reasons students look overseas.
According to ICEF, as of 2018/19, only 35% of Indian higher education institutions offered postgraduate programs, and 2.5% offered PhD programs.
Thanks to its strong graduate programs and post-study work opportunities, the US has long been a destination of choice for Indian students seeking bigger things.
The US economy is $7.6 billion richer thanks to Indian students
International students in general are a massive engine for the US economy. Through the 19/20 academic year, they contributed a total of $38.7 billion.
NAFSA calculates that for every eight international student enrolments, three American jobs are created thanks to spending in sectors like education, accommodation, dining, retail, and health insurance. That's 415,996 jobs!
Indian students alone contribute a huge proportion of that total – $7.6 billion in 2019, according to the US Department of Commerce.
78% of Indian students in the US study STEM
Like Google's Pichai, many Indian students opt to study their undergrad domestically and head to the US for grad programs.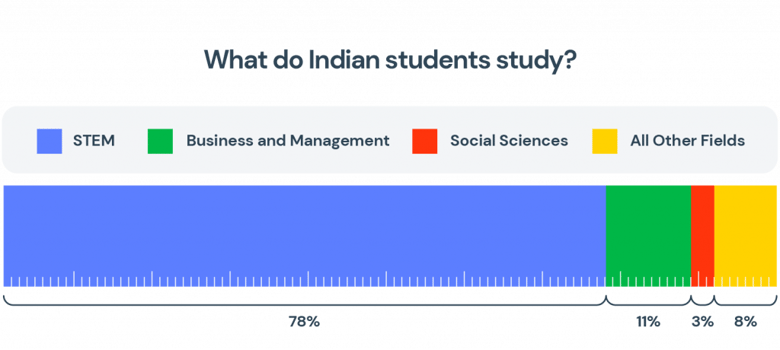 Open Doors calculates that, of the 190,000 Indian students in the US, 44% are in graduate programs and 42% in Optional Practical Training (OPT) with the rest in undergrad or non-degree courses.
STEM dominates as the field of choice. In 19/20, 78% of Indian students in the US were enrolled in STEM programs (followed by 11% business, 3% social sciences, and 8% in all other fields).
This makes a lot of sense, considering US institutions are home to some of the top STEM professors, labs, and facilities in the world.
From Google to Clubhouse, Indian students are Silicon Valley superstars
The US tech industry is a huge attraction for Indian students, and many go on to make their mark in the Valley.
Alongside Pichai, the current CEOs of Microsoft (Satya Nadella), Adobe (Shantanu Narayen), and IBM (Arvind Krishna) are all of Indian origin, and all spent time as graduate students in the US.
They're joined by a growing list of next-gen Indian American tech entrepreneurs – some of whom even found unicorn companies, like Rohan Seth of Clubhouse and Baiju Bhatt of Robinhood.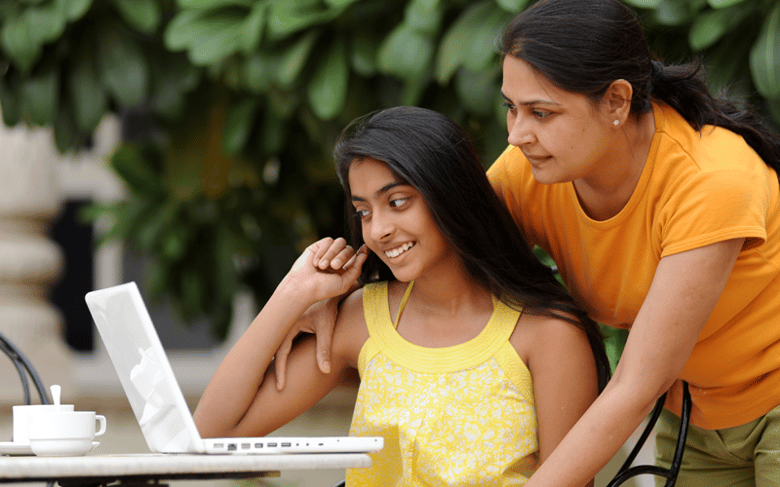 Family remains a key decision-driver
While quality teaching and facilities are big considerations, Indian international students don't necessarily opt for Ivy League schools.
When deciding where to study, 70% of students consult with their family, according to QS student survey data. Because of this, the choice often comes down to affordability, as well as the presence of a strong Indian diaspora or support network for students.
Take Wichita State University, located in the middle of the Kansas prairies. The institution has grown a 500-strong Indian student cohort and a lively Indian student society – which can give their family back home peace of mind.
US institutions should showcase scholarship options
Many Indian students and their families think pragmatically about the cost of international study – and consider the return on investment that education can bring.
According to QS survey data, whether an institution offers scholarships is a big decision driver. It was listed as a consideration by 52% of students and second only to the quality of teaching (54%).
QS recommends institutions effectively communicate their scholarship offerings and financial assistance to stand out to prospective Indian students – or even consider bespoke scholarships.
The India-US corridor is already bouncing back
While last year saw a temporary drop in student numbers due to Covid-19, things are well and truly on the rebound.
Indian students are still enthusiastically seeking international study experiences and numbers are projected to boom in coming years, perhaps one day even outstripping China.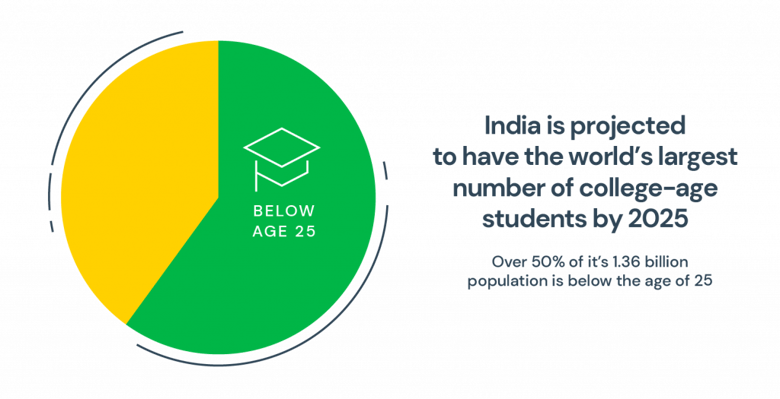 As QS points out: "With over 50% of its 1.36 billion population below the age of 25, the fast-expanding nation is projected to have the world's largest number of college-age students by 2025."
Institutions that offer strong financial assistance, support networks, and applied learning opportunities, and those that tell the success stories of their international alumni will be well placed to capture this talent.
---
Whether you're an education agent or institution, request a demo or submit an enquiry to learn more about the Adventus.io marketplace.