Our high precision, triple-check process removes the administrative burden for institutions by filtering out low-quality applications
Unlike others in the market, we consider applicants holistically by evaluating student's likelihood of getting an offer and visa simultaneously
Our dedicated team of visa specialists includes ex-immigration staff with expertise in handling visa applications for Australia, NZ, Canada, the USA, Ireland and the UK
5000+ visa applications have been successfully processed to date
Ensuring quality applications is critical in international student recruitment. Ineligible, fraudulent and incomplete applications slow the application process and put a huge burden on institutions.
At Adventus.io, we deliver the most rigorous quality and compliance checks in the industry. We act as gatekeepers to ensure only the best applications reach institutions, saving them valuable time.
We sat down with Gaganjot Kaur, Manager of Visa Services, and Aarthi Kadirgamar, Head of Regional Admissions & Compliance, to delve deeper into our process and find out how our team lodges 80% of applications within 3 hours and how our diligence results in 90%+ offer and 95%+ visa success rates.
How does our process differ in the industry?
Aarthi Kadirgamar: Typical aggregators focus on quantity without quality. Not only is this inefficient, but it also creates disappointment for everyone in the process.
As a neutral platform, we operate differently. We're not driven by commission. This affords us the ability to focus on quality first and lodge only the most suitable applications to institutions.
Conducting mock interviews, considering applicants holistically, and employing both human expertise alongside leading technology is an industry first. We're doing things in a unique way to ensure we deliver the best.
By investing in robust quality processes, we're able to identify that roughly 30% of applications received by the marketplace as not ready for lodgment. In other words, we withhold those applications that would have failed later down the track.
Our commitment to quality sets us apart from the rest.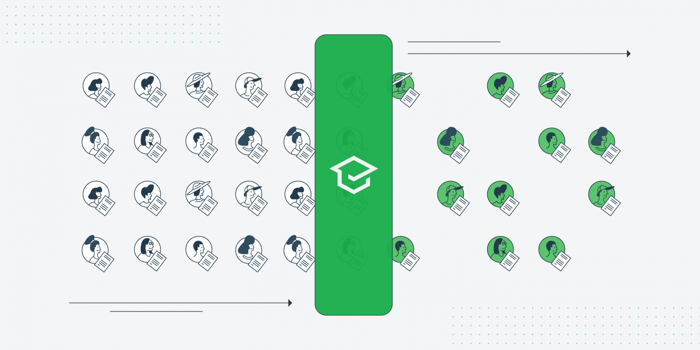 Can you tell us how the admission team begins the triple-check process?
Aarthi Kadirgamar: The process kicks off with Quality Check #1 (Application). These are a set of preliminary checks on a student's English, academic, and financial status.
Our team cross-references academic records to ensure they match a student's desired study program, collects financial documentation to ensure suitability, and completes an immigration history of the student, their dependents and sponsors. If we identify any study gaps, we require sufficient evidence to account for the break.
To ensure authenticity, our quality team conduct "back to source" documentation checks to ensure the documents are verified by the issuing authority. We also use leading software to detect fraud.
Finally, investigations are made to gain deep knowledge about a student's background. Once we're satisfied, the application moves forward.
The team then begins Quality Check #2 (Acceptance). Here 80% of the visa filing is completed in parallel by the Visa Services team.
We combine plagiarism software with our expert team of ex-immigration staff who are experts in visa application requirements.
We gather financial documents from the recruiter and ensure that the student has sufficient funds to afford the tuition and living costs as specified by the embassy. We even contact banks to confirm the credibility of funds.
Upon receiving all the necessary information, we notify the recruiter and conduct a pre-screening mock visa interview via Zoom to confirm credibility.
Can you tell us what a visa officer's role consists of?
Gaganjot Kaur: Our Visa Services team enters the process at Quality Check #3 (Visa). Transparency is a critical element of a robust admissions framework. That's why we thoroughly check the student's visa background including previous visa grants and refusals.
We then make recruiters aware of the conditions of the student visa and refrain from offering permanent residency advice.
Finally, we enquire about the immigration history of the student's immediate family members including spouses, siblings and parents, that might impact the student's compliance assessment.
It's important to note, our team works incredibly efficiently lodging 80% of applications in just three hours.
Are there location specialists within the team?
Gaganjot Kaur: Absolutely. We have team members specialised in each destination country to help us accurately guide recruiters.
Our team has been hand-selected for their expertise. As a unit, we are highly-experienced across every aspect of admissions and immigration. Some have won awards in fraud detection, others are experienced in large international immigration cases and a number have worked with high profile persons.
Much of the team has extensive experience in immigration bureaus, deep expertise within institutions and experience managing end-to-end compliance and visa processes with thousands of visas processed.
To learn how your institution can unlock potential in your student pipeline with the Adventus.io marketplace, contact us to speak with an industry expert.